Have you ever had a day where you couldn't get a break?
Tot had one of those days.
First, we woke up at  double 00 early to take mama to the Dr. to get her knee checked. Tatum helped the Dr. out showing mama how to stretch out her legs.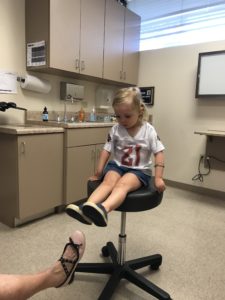 Now do this mama: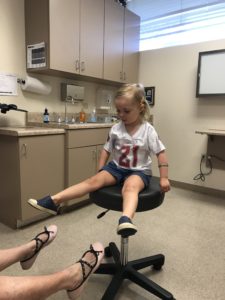 After this, we headed out. Tatum was cold, so she wanted to stand outside. I was ready to take her when she headed full force into the window. Their side window looked so darn clean that it was clearly invisible. (no pun intended). I screamed and cried more than she did!
We got an ice pack and headed home.
Later that day, I had a meeting at GCU for brainstorming on curriculum and instruction. An hour long meeting for a two hour commute. Worth it? Hmmmm. I'm still wondering this.
Well, our dear friends Chelsea and her son Mason took Tatum to Sportball so she wouldn't miss. She was in hog heaven riding in a fancy car seat in another's car!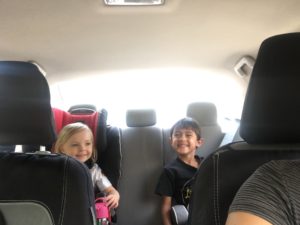 Apparently after class, they went to wash their hands, and some turf fell on Tatum's finger. What!? When I picked her up she had a red and black bandaid with some character I cannot remember at the moment on it, but I do know it helped cheer her up.
We ended the day with no running, jumping, wiggling or hopping. I said we needed to just lay low and be. So we opted for a board game with mama to wind down the night.
Mom is recovering well, and Tatum? She fell asleep with a smile and a twinkle. I think she'll be just fine.