Father's Day has arrived. Now, this day has not usually been my favorite holiday, honestly. However, this year, I wanted to celebrate a particular DAD who has shown love, patience, kindness, strength and long-suffering.
Doug.
He embodies all that is good about being a dad.
I wanted to make something for him which would be significant and communicate this message. This is when the verse, Isaiah 40:31 came to me:
"But they who wait for the Lord shall renew their strength;
    they shall mount up with wings like eagles;
they shall run and not be weary;
    they shall walk and not faint.:

An eagle! So I got to work.
Slowly but surely it came together. Tatum encouraged me all along the way, and actually she made art with me as I persevered.
She wanted to make something for Doug, and a rainbow was just the ticket. A promise of good things to come!
The eagle finally landed and was ready to frame. I had to make sure the writing was just right. Painstakingly, I tried to line it up only to find out it was not so.
But I tried!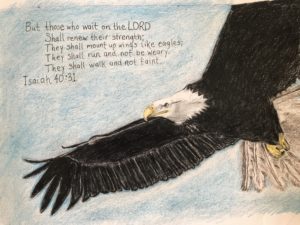 Then I framed it and voila…gave it to my Doug.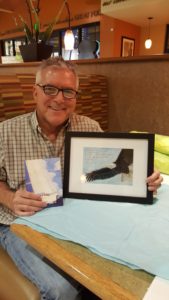 I think he liked! I know it was sure fun doing it. He is so patient, and has endured so much through these last few years with me especially. We needed to celebrate this and remind him that GOD HAS IT ALL in HIS HANDS. (or under His wings, I should say.
Happy Father's Day!