This is the second most common asked question in my house, only to be topped by what can I have for snack?  
All kidding aside, Doug, Tatum and I decided to go visit my sweet brother, his amazing wife, and dynamically talented son, Thomas. I made it priority to visit in the winter so Tot could enjoy the snow. To her, building snowmen, sledding, and putting on forty layers of clothing is all theoretical. I even showed her a video of a blizzard so she could see how the other half lives. It ain't so pretty when you live in it, but boy is it beautiful to visit!
Anyhoo, we left on a Sunday late morning. As usual, my fear of forgetting where we parked  kicked in so we documented. Twice. (bonus cute pics)
Why is it called the Skytrain?
Good question, Tot. I like this way of traveling. Who needs an amusement park when you have one of these.
Bye baby. They are going to analyze your parts.
Now, I had heavy bags because of one reason. TATUM>  I blame her. I refused to bring any zone-out-on-a-screen devices which would have lightened my load. We brought books, toys, drawing, and do-dads. Lots of them (and my back says aaaaaahhh!)
We landed and headed back to John's house. WHERE IS THE SNOW?
Thank goodness they had a bit on their mountain.
Let's check the growth.
Tot has grown since last time. Documented. Official.
Now it was time to unveil the gifts. I try to outdo myself with unusual things from Trader Joe's to bring John. I think I was successful.
Seaweed is a snack. Say it with me: Seaweed is a snack. It's all the rage with the kids.
Thomas, Tatum has been waiting to give you this. Two things.
After she let go, they headed upstairs to play.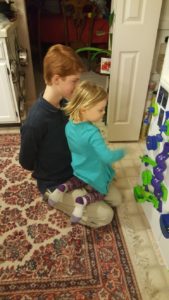 John makes the best dinners. Definitely the most colorful.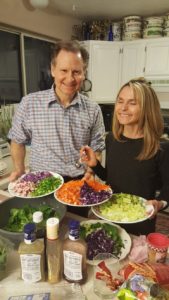 Day 1. You were delightful.